Overview
The application allows to obscure certain sections of the documents so that they may not be reviewed by another party. Room Admins can redact documents from all folders they can Manage. Redaction marks can be added from regular and special folders such as My Starred Items, All Search Hits, Lists, etc.
Getting There
There are 2 ways of accessing Toolbox Mode in order to redact documents. Select a document that is not slipsheeted or does not have opened signature requests:
Pop out the Viewer and click on Toolbox Mode button.
On File Information panel, Document Actions section, click on Redaction and Self-Signing icon. Toolbox Mode is opened on a separate browser tab and automatically set.

Note: when selecting Archives, Audio or Video files and selecting Toolbox mode, everything will be disabled since these kinds of files cannot be redacted.
Toolbox Mode
In order to redact text, just drag and drop the Redaction rectangle displayed on the right side of the Toolbox and place it on the text that needs to be hidden.
Redaction Marks will be displayed in Red with a "Redacted" label by default. This label can be changed at any time. Once it is changed, all redaction marks created afterwards will have the latest label set by default.
Each redaction mark will have its corresponding row under Redaction List. This list shows the page the mark is in, the user who created it, the label and a delete icon to delete each Redaction Mark individually.

The following Actions can be performed on Redaction Marks:
Resize: select the redaction and place the cursor on the right lower corner until a white double arrow is shown. Then drag and resize as needed.
Edit Label: in order to change the redaction's label, identify the corresponding row on Redaction List, click on the label and then the field will be editable. Just make any changes and click on check icon to save changes.

Move:

select a redaction and move it to the desired new place. Click on Apply and Save button to save all changes.
Delete: Any user that is able to redact, can delete its own and other user's redaction marks.
- Delete a Single Redaction: click on the Delete icon from any row from Redaction List table. This action will delete that specific redaction mark only.
- Delete All Redactions: in order to delete all redactions at once, click on Delete Redactions button.
Colors and Redaction Marks
Redactions can have different colors according to their status:
Bright Red: identifies unsaved redactions.
Light Red: identifies the redaction currently focused.
Grey: once Apply and Save button is selected, all redaction marks will turn grey indicating that they are saved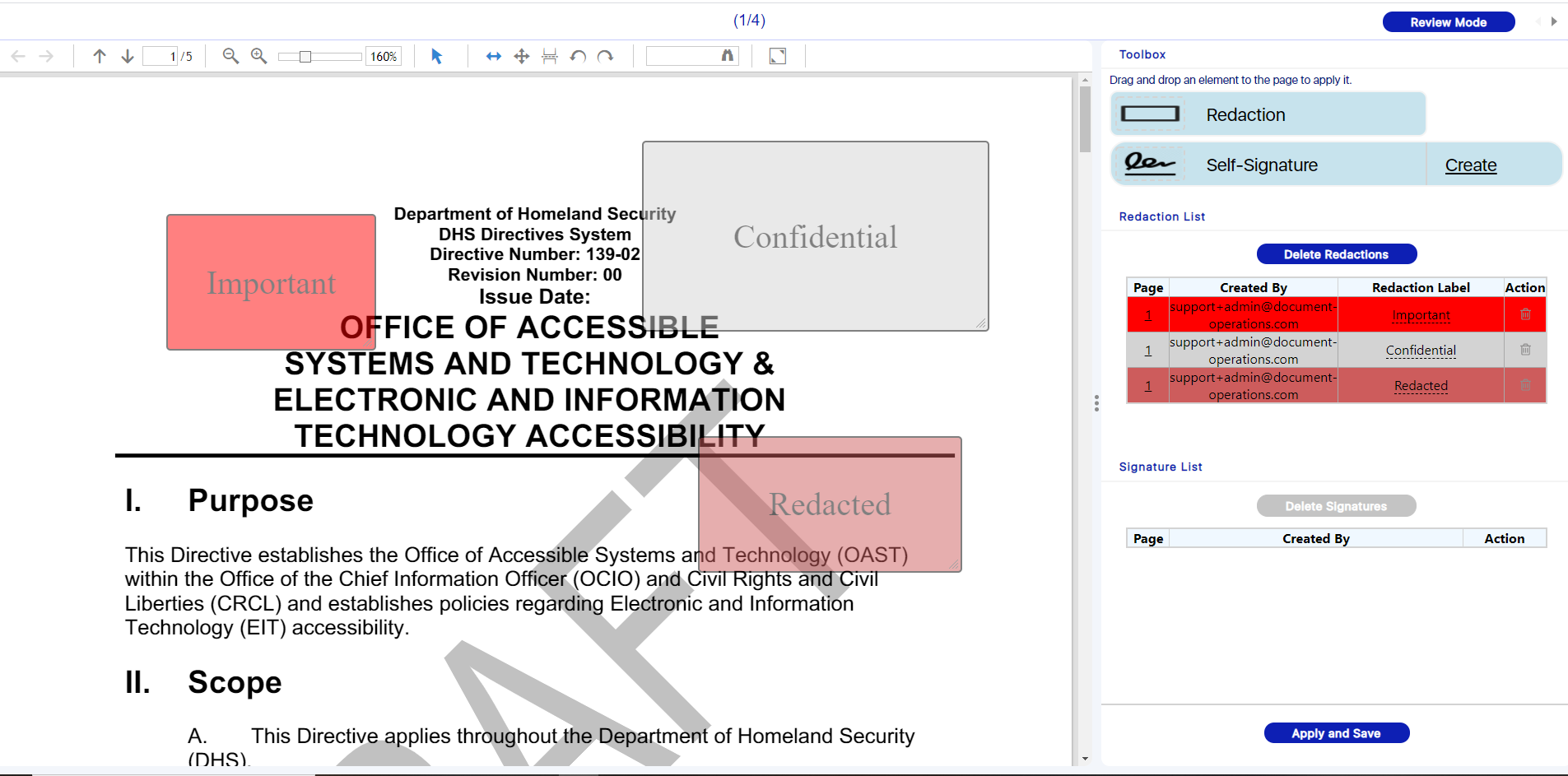 Review Mode
User can toggle from Toolbox to Review Mode at any time by clicking on Review Mode button on the top right corner of the screen.
When switching to Review Mode, all redaction marks will be displayed in black with its label in white.
No action can be performed on Redactions on Review Mode.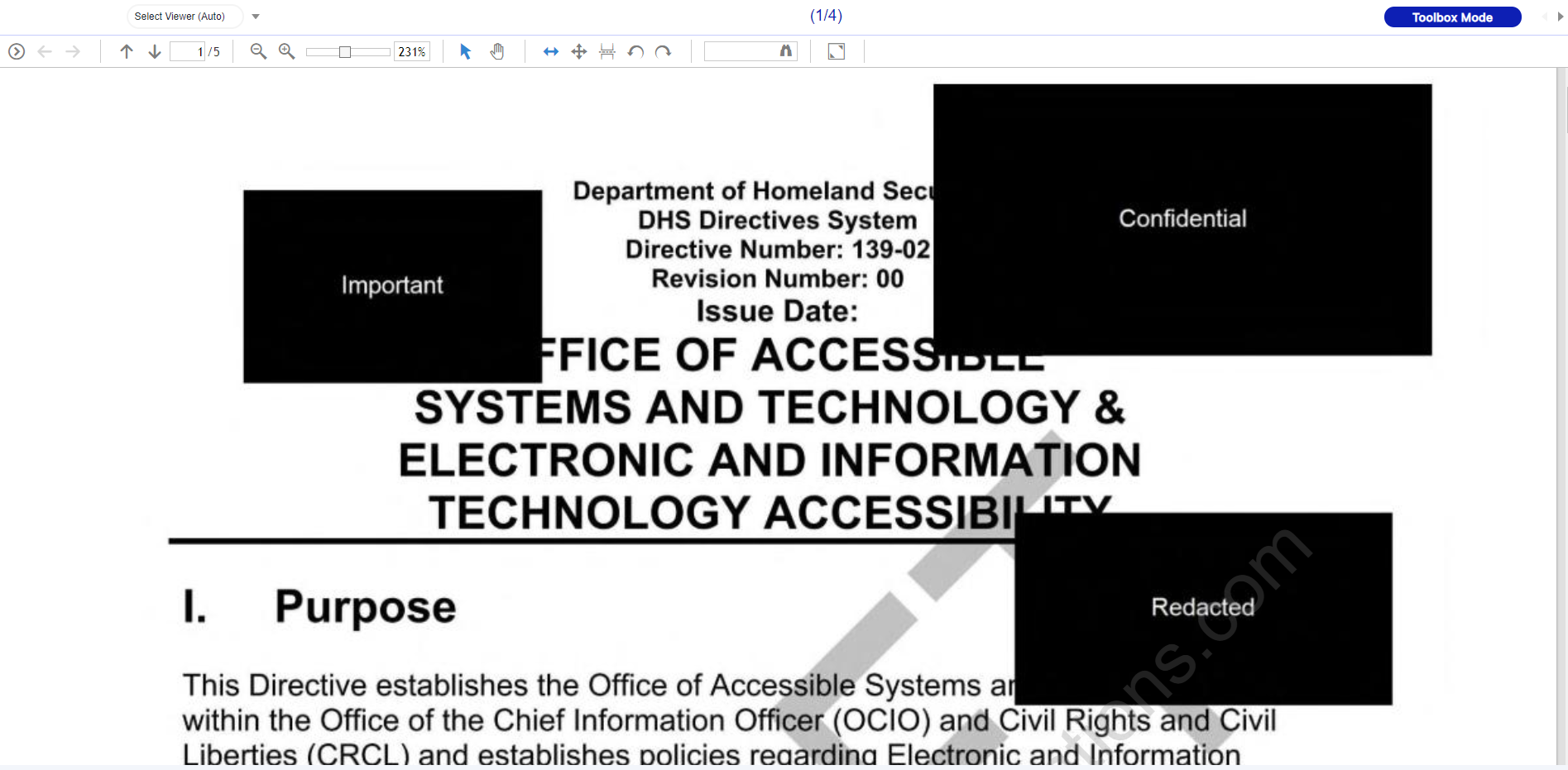 Downloading Redacted Documents
To Download Native any redacted version of a document, the user must be able to Manage that document's folder. The same applies to list item attachments. User needs Manage Work Lists room permission granted.
If the user can't manage and tries to download a single document, he will get Native option disabled. On the other hand, when downloading multiple documents, some of them redacted and others not, the user will get a warning and just download all unredacted documents.
When downloading folders the user can't manage, the zip will contain a slipsheet file for each redacted document. The slipsheet will show a legend similar to "Document Was Self-Signed and/or Redacted And Cannot Be Downloaded As Native".
Please take into account that when sharing redacted documents with Download Native permission, the recipient will still not be able to download them.