The application allows you to store different versions of your documents and manage them in a very easy way.
Right click on a document and select Manage Versions > Version History option. A list of all the versions for the selected document will be displayed. The current version is displayed on top.
There are several actions that can be performed: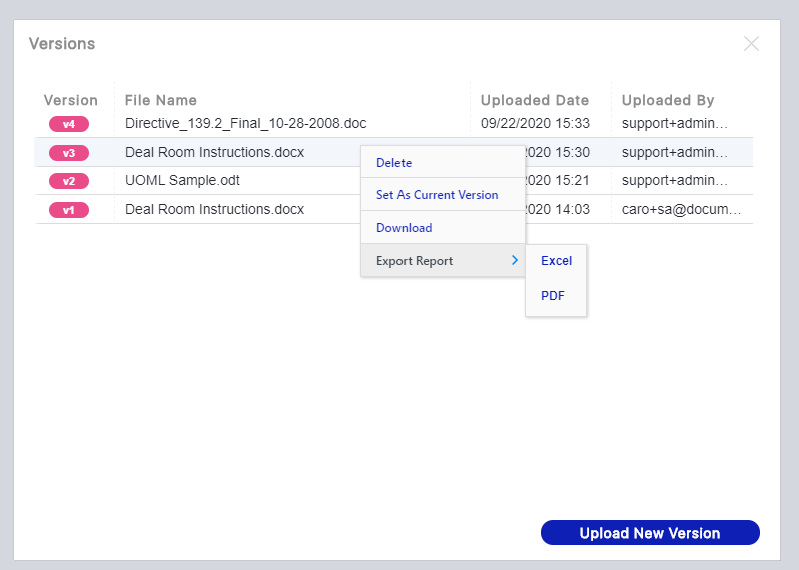 Uploaded By column is only shown if user has "See Uploaded By information for Documents" permission.
Upload New Version: allows to select a new version for the document and upload it.
For detailed information on How to upload a new version of a document please see the related article.
Delete: will delete the chosen version of a document Once a version is deleted it will be grayed out and crossed out. If you need to restore the deleted version, you can right click on it, select "Restore".
The current version cannot be deleted.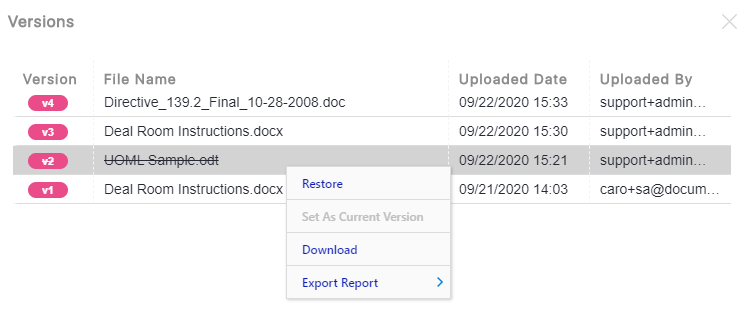 Set As Current Version: to change the current version, right click on another version and select Set As Current Version. This will add a new version and display it on top of the list.
Note: On the viewer, the current version is displayed by default. If you want to display another version, you can change it from Versions dropdown on File Information panel.
Download: allows you to select any version and download it in its Native and/or PDF form.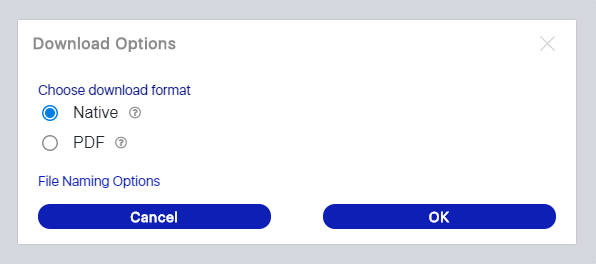 All versions can be downloaded, even deleted ones.
For detailed information on Downloading Documents & Folders please see the related article.
If at least one of the versions is redacted and/or self-signed, please refer to Redacting and Self-Signing articles.
Export: Clicking on export allows you to download a list of all the versions of a document. You can export this list to Excel or PDF.
Applying Rules to Uploaded Documents
After documents are uploaded, if the room has enabled rules, all Condition Sets will be automatically evaluated and Actions applied to all matching documents. A document can match more than one rule, in that case more than one Action will be executed.
For more information, please refer to Managing Expedite Rules article.