Overview
Administrators are able to access "Quik Search Manager" in order to run searches on the room and be able to save search results into new folders.
Getting There
Search Manager can be accessed in two ways:
In the room, Quik Search Manager menu on the top navigation header
On My Rooms, right click on the room and select Quik Search Manager option
How It Works
When Search Manager opens it will look like the screenshot below.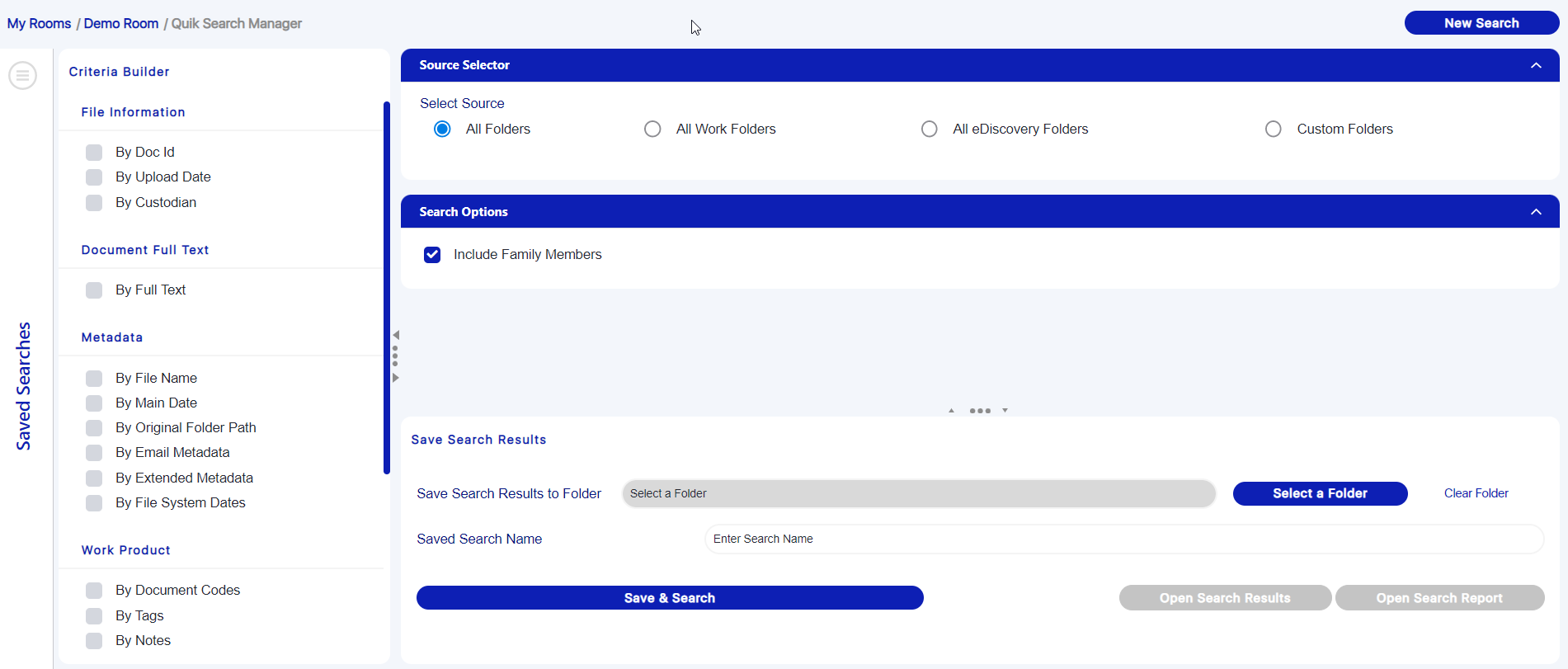 On the left side, it will show the Criteria Builder, which displays all available filters, grouped by type. When you click on any filter, the corresponding fields are shown on the right panel.
The different criteria are combined and the search is executed taking into account all filters selected.
When clicking New Search button, all filters are reset and a brand new search can be executed and saved from scratch.
Source Selector
In order to run a search, the documents considered as source must be defined. The options are:
All Folders: by default, this option is selected. This will consider all documents in all folders when running the search.
All Work Folders: it will consider all documents in regular and special folders, excluding eDiscovery folders.
All eDiscovery Folders: shown and enabled in rooms with Ediscovery mode On. The search will be run only considering document in these folders.
Custom Folders: when selecting this option, a folder selector will be opened, allowing the user to select which folders will be considered as source.
Criteria Builder
File Information
By Doc Id
By Upload Date
By Custodian: shown and enabled in rooms with Ediscovery mode On and Custodians created
Document Full Text
By Full Text: supported delimiters are comma (,) and new line.
Metadata
By File Name
By Main Date
By Original File Path: shown in rooms with Ediscovery mode On
By Email Metadata

Email From
Email To
Email CC
Email BCC
Subject
Thread ID: shown when Perform Email Thread Analysis room setting is On
Email Sent Date
Email Message Type

Email
Appointment
Contact

By Extended Metadata

Title
Author
Company
By Last Saved Date

By File System Dates

By Created Date
By Last Access Date
Work Product
By Document Codes: enabled in rooms that have Codes created
By Tags: enabled in rooms that have Tags created
By Notes
By Redaction Status

Any Redaction Status
Redacted
Not Redacted

By Review Status: shown in rooms with Ediscovery mode On

By Review Set
By Review Status

Queued for Review
Checked Out for Review
Review Completed
Production Information (This section is shown in rooms with Ediscovery mode On)
By Bates Number: enter a single value or search for a comma delimited list of bates numbers
By Production Status

Any Production Status
Produced
Not Produced
Custom Fields
By Custom Fields: enabled in rooms that have Custom Fields created
Search Options
Include Family Members: option checked by default, "Family Member" column will show Yes for all email/attachments.

When using

Custom Folders

as source option: ALL family members will be included in the search results, no matter which folder they are in
When using

All Folders, All Work Folders, All Ediscovery Folders as source option: ONLY family members in the folders selected as source will be included in the

search results
Save Search Results
You can select where the new folder with the search results will be saved to. If no folder is selected, the search will be saved under root folder by default.
If no name is provided, when clicking Save & Search button, the folder will be created following the Date Time - Unnamed naming convention.
As soon as the search finishes executing, the Open Search Results button is enabled. When clicked, a new tab is opened with the folder just created focused. If there were matching documents, you can easily access the search results. Please note that documents in Recycle Bin and Pending Automated Deletion folders are not retrieved.
Folders created thru Search Manager are identified by

.
Room Admins and/or Power Users only can right click and see "Update Folder Search Results" option. When selected, the search is re-executed and matching documents are updated.
User can also select "Open in Quik Search Manager", it will open the saved search so that the user can edit and/or re-execute.
The "Convert Saved Search Folder to Regular folder" option is also available. When chosen, the folder will be changed to a regular folder, showing all the actions available work folders have.
Saved Searches
User can expand the Saved Searches left panel and see the searches already executed. The available actions are: Edit Search, Copy to New Search, Open Search Folder in room, Open Search report.

Open Search Report
The report shows all information related to Keywords searches. If the search didn't include any keyword, the report will be opened empty.