Overview
On a room, documents can be Quarantined, so that its content is only viewable by admins or Power users.
Manually: Admins or Power users, can right click on a document or multiple documents and select "Quarantine" option. The only documents that cannot be quarantined are the ones in Recycle Bin.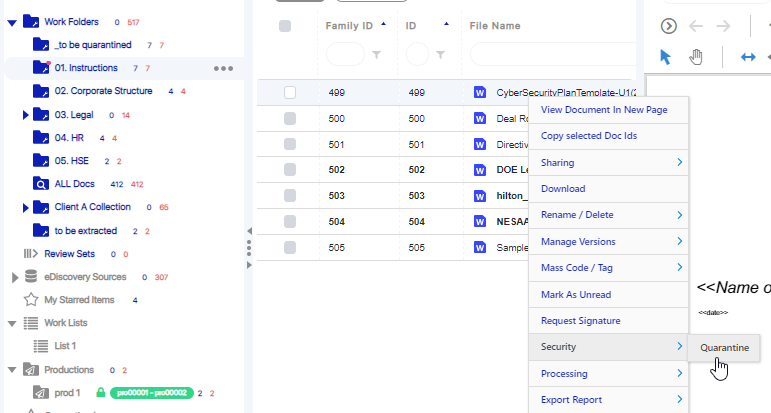 Expedite Rules: If the room has any enabled rule defined in which the action is set to be "Quarantine", all documents uploaded to the room matching the rule's condition will be automatically marked as "Quarantined". For more information on Expedite Rules, please refer to Managing Expedite Rules article.
How do quarantined documents look like?
If you are Admin or Power User, you will see Quarantined documents with a "Quarantined" label on Permissions column.
You will also see a "Quarantine" folder on Folders list panel which contains a copy of all quarantined documents in that room. Therefore, all the changes made on the document on its original folder (marked as unread, rename, delete, add/delete/edit notes, tag/untag, codes) should be reflected on the document on Quarantined folder and vice versa.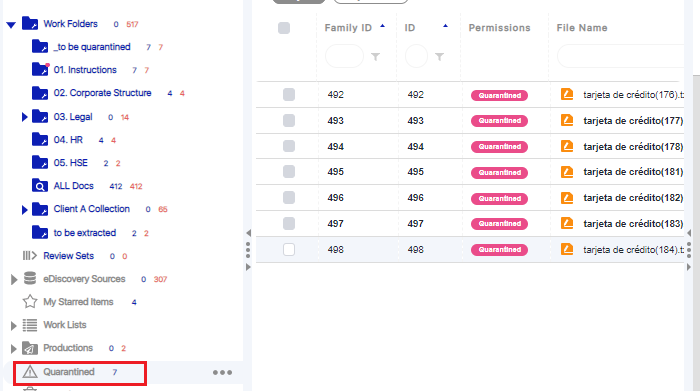 An access type user, will see the document listed on Documents grid but will not be able to see the File Name or its content in the viewer.

Restrictions on quarantined documents
When a quarantined document is selected, the following actions are not allowed:
Request Signature
Upload New Version: through Set As Current Version, traditional upload and/or Office Online edition