On Documents list, select one or multiple documents, right click and select Sharing > Share Documents option.
If you want to share a single document, the one currently focused, you can use the quick access icon on File Information Panel.
Once clicked, Share window will be opened so that you can specify:
Email Addresses of the recipients: several emails can be entered comma separated
Permissions granted: Download Native, Download PDF, Watermarked. These permissions depend on the room's and folders' setup. For example, if the room has All Folders Watermarked setting, Watermarked option will be checked and disabled by default. Watermarked will also be disabled when Download Native is selected and vice versa
Expiration Date: date when the document is no longer accessible to the recipient
Select language: the selected language will apply to new, unregistered users only
Add a custom message: when clicked a new window is opened allowing to enter additional text that will be included in the Shared Documents email.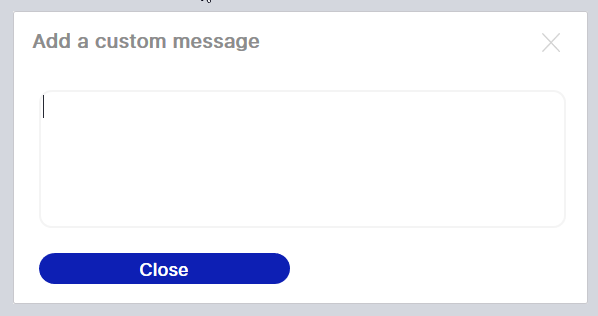 If the user has already shared some documents with another user, another way of sharing more documents is by dragging and dropping the documents directly to the Shared with others > User's email folder. The Share window is automatically opened and the user can complete all the settings.
After sharing, the user who shared the documents sees the Shared with others folder with one sub folder for each email address the documents were shared with.
Every time documents are shared, the recipient gets an email. There are some exceptions:
When sharing with disabled users. They won't get the shared documents email, they will just see the Shared with me folder the next time they enter the room.
If the room requires 2nd Level Approval, the shared documents email is not sent until the user is approved. If the user sharing the documents is an approver himself, no additional approvals are needed. The documents are automatically shared.
If the room has the Turn off Room Alerts and Emails setting checked.
If the user has never registered before, when clicking on the email's button link, he is taken to the registration page. After registering or logging in, he sees all documents under Shared with me folder.
The same document can be shared by different users granting different permissions or expiration dates to the same recipient.
In this case, the recipient will see as Expiration Date the farthest date and the permissions allowed will be the less restrictive ones.
On Documents list, Permissions column tells the recipient the actions available for each document
| | |
| --- | --- |
| | Can Download PDF |
| | Can Download Native |
| | No download is allowed but document's content is displayed in the Viewer |
| | No download is allowed and document's content isn't displayed in the Viewer |
| | Only Admins can download the document and see its content in the Viewer |