Overview
The application allows Admins and Users having the corresponding permissions, to create and apply Tags and Codes that can assist in the organization of documents in a Room.
Tagging
Types of Tags
There are two types of Tags:
Room Tags: can be used by all users having permission to Tag Documents. Once a User tags a document, it will appear tagged to all Users viewing that document that have permission to Tag Documents.

Personal Tags: can be used only by the user who created them and are only visible to this user. Each user having "Manage Personal Tag" room permission can manage their own Personal Tags.
Coding
On Ediscovery rooms, by default, the following Codes are shown: Responsiveness, Issue Codes, Confidentiality and Privilege Type, each of them with their corresponding choices.
Admin users can manage these codes, add new ones, edit existing ones and add choices.
Getting There
File Information Panel will appear as the right-most panel in a Room. If the Room has been configured with Tags and you have permission to see and use Tags and Codes, you will see Coding Panel section.
Note: Codes are only shown on Ediscovery Rooms.
Permissions
There are three Room Permissions associated with the Tagging and Coding feature:
Tag and Code Documents: allows users to apply tags and codes on documents.
Manage Tags and Codes: allows users to create and manage Room Tags and Codes. Please refer to Managing Room Tags and Manage Room Codes articles for more information.
Manage Personal Tags: allows users to create and Manage Personal Tags. Please refer to Creating Personal Tags article for more information.
Tagging Documents
On Documents grid, select the document you wish to tag / untag and click on the tag label you wish to tag or untag the document with.
A gray label indicates that the document has not been tagged with that Tag. A solid colored label indicates that the document has been tagged with the corresponding Tag.
Changes to the Tags will only affect the focused document, and not multiple documents that have been selected with check marks.
Coding Documents
In order to code docs, just select a document on Docs grid and select the corresponding codes on File information panel. If configured, dropdown codes will show its choice in its corresponding color.
Just click on Next document, to go to next document to continue coding.
If configured, you can also code documents by using the Hot Key set up for each specific choice.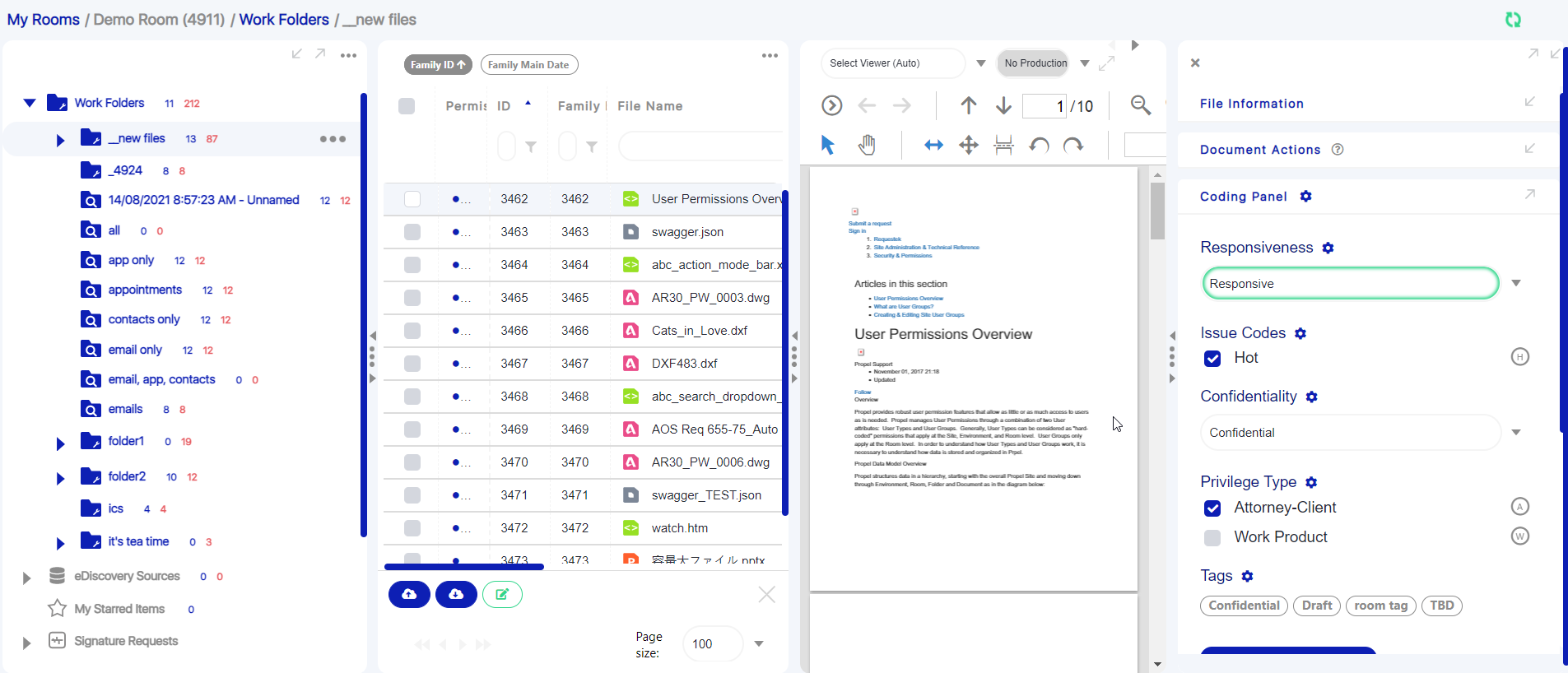 Mass Tagging/Untagging and Coding Documents
In order to tag, untag or code multiple documents at the same time you can use "Mass Code /Tag Feature" by either selecting multiple documents or selecting a folder and right click and select "Mass Code / Tag".
Note: this option is available on Work folders, Saved Searches folder, Data Sources on Ediscovery sources, Productions and All Search hits
Mass Tagging
Check below, Room and Personal tags are shown.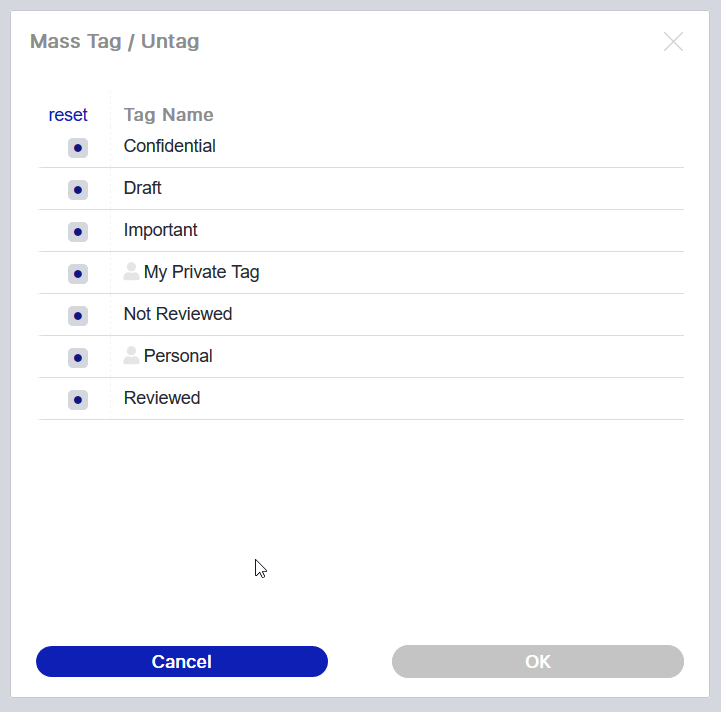 To tag documents just check next to the Tag, to untag, uncheck so that checkbox is empty and if you do not want to make any changes to a tag, leave the black circle in it.
Also, clicking on "Reset" option, will remove all checks or blanks and will display a black circle in all tags. Those tags will remain unchanged.
Mass Coding
The following window will be shown, displaying configured codes for the room.
On checkbox codes, just check in it to assign that code, to remove it, uncheck it so that checkbox is empty and if you do not want to make any changes to a code, leave the black circle in it.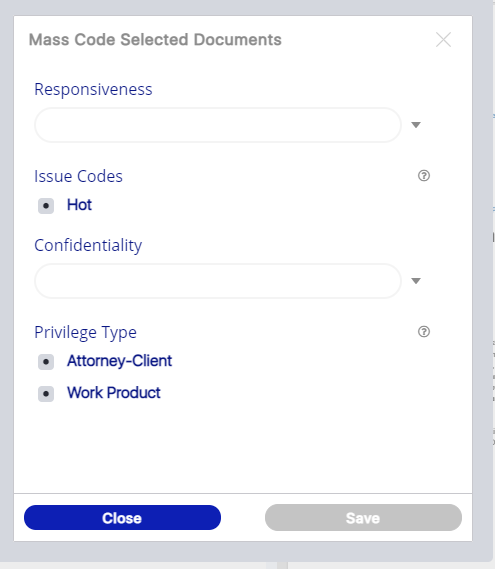 Finding Tagged/Coded Documents
Tagged / Coded documents can be searched using the Advanced Search feature. Please refer to Advanced Search article for further information.